In the simple, clean, institutional environments of healthcare, artwork is often the most visual component of the space. In a time when healthcare is being redefined and there is a focus on the escalating costs of modern medicine, it is important to justify investing in quality design and aesthetics. As demand and competition in the healthcare market increase, it will become more and more vital for healthcare facilities to distinguish themselves by providing the most comfortable and engaging environments possible for patients and staff.
Grand Image's art consulting team strives to keep these principals at the forefront of our packages. While members of our team also have the privilege of working on boutique hotels, high end homes and modern apartment buildings designed for aspirational living, our healthcare projects are in many ways the most fulfilling because of the impact successful placement of artwork can make on the patients and staff.
The Science of Art in Healthcare
Scientific studies in evidence-based design have shown that artwork in healthcare settings shortens recovery times, lessens the intake of pain medication, reduces blood pressure and heart rate and promotes positive, healthy attitudes for everyone who encounters it. A piece of art can act as a distraction to the viewer, whether that be to help control pain, combat boredom during long and stressful wait times, or comfort someone suffering from fatigue and distress. While patients and the public are the primary audience for the artwork, it is important to also consider the hospital employees. After all, the support staff, nurses, and doctors, spend the most time of anyone inside of healthcare environments, and are the faces of hope and wellness.
Neurological Institute, Valley Medical Center, Renton, WA
Principals for Selecting Art in Wellness Environments
Selecting art for healthcare facilities requires special considerations and a mindful approach to ensure that the artwork is well received and has a positive impact. While there are no steadfast rules, we have learned to consider these principles when selecting art for healing spaces:
Focus on subject matter that promotes a sense of well-being, relaxation and vitality. The natural world and all of its wondrous and diverse landscapes are awe inspiring. Selecting imagery that celebrates nature and its capacity for growth, healing, and life, creates a great foundation for a successful art package.

Consider the needs of specific patients. For example, patients suffering from neurological conditions can become confused by imagery that is blurry or unclear. Someone who experiences chronic migraines may be comforted and soothed by images of forests or waterfalls rather than saturated, bright flowers.

Select the right artwork for the activities that will happen in that space. For example, waiting rooms may benefit from more expansive landscapes that continue on into the horizon, instead of more abstract imagery that reads more two dimensionally.
Consider the wayfinding function of artwork. Distinguishing different spaces and their functions through varying imagery and color can help visitors find their way in a large facility.
Avoid controversial or disturbing imagery. Many patients and visitors are already suffering from pain, anxiety and uncertainty. The artwork you select should not evoke negative feelings or imply a sense of dread or uncertainty. Some clients, for example, avoid red because of the connotation with blood. In most cases, aggressive, sharp shapes and high contrast imagery should be avoided.
Celebrate the local community by selecting local artists and imagery that reflects the region.
Provide something for everyone. By combining paintings, photography, mixed media work, and three-dimensional pieces, any visitor is sure to find an artwork that speaks to their own personal sensibilities.
How Grand Image Can Help
Our art consulting team is here to make the process of specifying art fun, creative, convenient, and affordable for our clients. From concept development to manufacturing and delivery, Grand Image is your partner in creating compelling and unique art collections for your projects.
We will work with you to define the scope, budget, and art direction for your design. Next, we curate a wide range of art options, from inexpensive prints for exam rooms, to custom original sculpture concepts for public areas. Grand Image also offers unique substrates and frames suited to specific environmental requirements, such as low VOC wall coverings, non-glare glazing, and anti-microbial frames.
Our presentations make it easy to understand the placement of artwork and choose between specifically curated options. You can see examples of our presentation documents by scrolling through the album below.
Contact us today to help make your project extraordinary!
Photography: Showcase the World
Photography is a natural fit for healthcare environments. Expansive scenic views, close-up macro images, and more experimental techniques like x-ray photography are all popular in healthcare design for a reason. Not only is photography a media beloved by many, it also offers the opportunity to realistically showcase the wonders of the natural world and transport viewers from hospital interiors into a lush forest, majestic mountain, or awesome coastline. Because of the clarity of photographic images, even patients who are drowsy or confused can find recognition and meaning in a photograph.
Sculpture & Installation Art
Sculpture and installation art continue to be a rising trend in healthcare design. Three dimensional work introduces another form of visual interest to the overall interior and encourages viewers to physically engage with the space. There is even sometimes the opportunity to interact directly with the art! The benefits of sculpture in the healthcare environment are backed by experts in the field of Phychoneuroimmunology, who study the correlation between stress and health. In their studies, they have found that the nervous and immune systems can be positively affected by sculpture.
Grand Image works with many sculptors and fabricators who can help bring a space to life through site-specific 3D art and even interactive installations. While the process of commissioning and installing public area sculptures is more complex (and more expensive) than traditional framed art, these pieces create a lasting impact on visitors and help to engage and define institutions, while supporting local artists.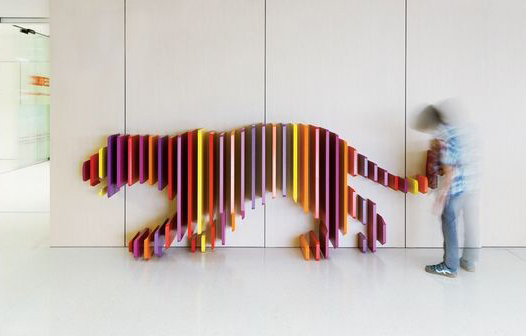 Artist Spotlight: Maeve Harris
The work of Tacoma, Washington-based artist, Maeve Harris, is featured in the collections of many major healthcare institutions throughout the United States. Harris renders expressions of color and light in her paintings with unique layering of pigments to form subjects that inspire, calm, and transport viewers. Her body of work consists of soft abstracts, ethereal landscapes and delicate botanicals. These images speak to audiences young and old, and provide a contemporary yet familiar feel.